As yesterday was a free day for me, my bro, cousin and my friend, we planned to make a visit to Bopath Falls. It is a waterfall which is 30 metres high, situated in Ratnapura district of Sri Lanka. The falls have three cascades that give the appearance of the rounded shape of the leaf of the Bo tree, is a spectacular sight. The fall got its name after the Bo leaf which is translated in Sinhala as Bopath.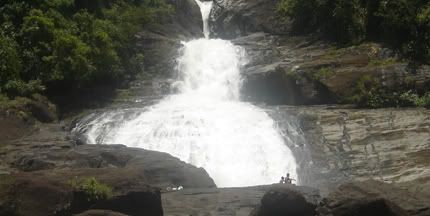 We set off from home around 9 am and reached the falls around 11:00 am. It was so nice to be out of the busy city and the hustles. No buildings, less vehicles, quiet and more greenery. Beautiful natural scenes amazed me as always. It's never boring to sit and watch the natural beauty of the country pass by as we drive along.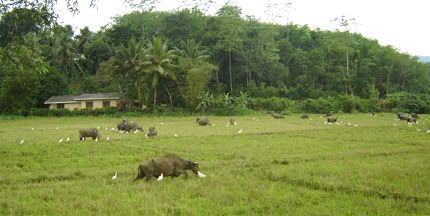 As this being my 5th time in Bopath falls me and my friend gave some "do's and don't" tips to my bro n cousin. Not because it was their first experience in a waterfall, but also because bathing at the base of the waterfall is fraught with danger as many lives have been lost here. Even I have had a near death experience on my 3rd visit to the falls. So I was more precautious this time.
Once you get to the place, you have to jump from one rock to the other to reach the stream. Climbing and jumping on the rocks is a risky tasks as some of the rocks are very slippery. But still it's a good way to experience the untouched nature.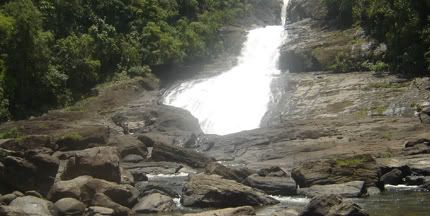 As usual, we bathed in our old spot down the stream. It was fun but dangerous as the pressure of the water was very high and there are deeper areas too. After staying there for a while my bro and cousin wanted to climb up the first cascade of the falls. I kept remembering about the time I slipped and got carried away helplessly with the current of the falls. I hesitated to go forward. But seeing others ahead of me kept me wanting to go. I struggled to climb over and down the rocks and reached near the first cascade of the fall. Once there, I had no hope that I'll get back home safe. Coz I knew going back down was harder than climbing up.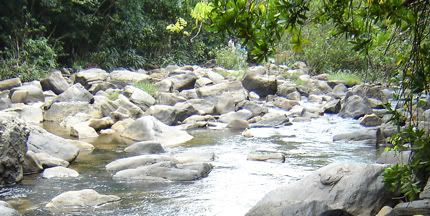 Once we headed down, my friend and cousin crossed to the other side of the stream except for me and my bro. I was trapped at the point I slipped the other time. I was shaken with fear and was nervous on taking one step forward. But somehow, with the help of my friend and cousin, we managed to cross to the other side, safe and sound. Phew! It was a sigh of relief for me.
Between the falls and the confluence of the two streams is a sandy area with several pools of turbulent cold water, ideal for picnicking. We headed down there and took some photos but didn't bath from there as the water wasn't very clean.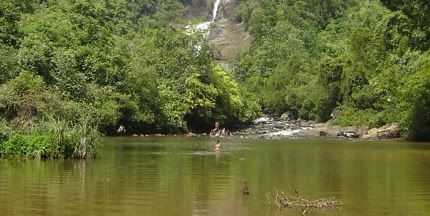 After some photo shoots, we changed to clean clothes and headed back to our vehicle to drive back home. First we went to a restaurant and had lunch. It was around 3:45pm. On our way back to home, we stopped in a rubber tree forest to snap some pictures.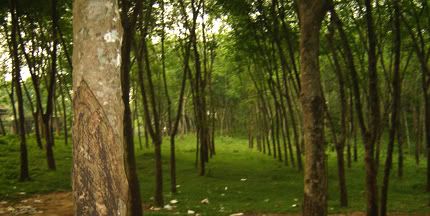 It was getting dark by the time we reached there. But still my cousin wanted to explore the place and he was running after my friend, climbing the rocks and in the trees. I had to run after them to bring them back to the vehicle. I knew my cousin was really having a good time as this was the first time he went on a trip like this. We had a really great day.