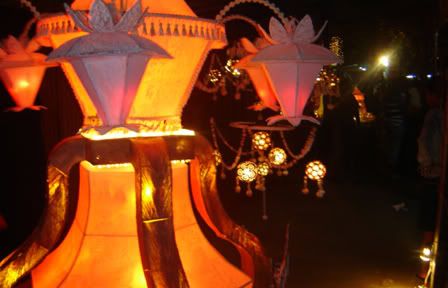 May 19 and 20 is the Vesak day here in Sri Lanka. Sometimes informally called "Buddha's birthday", it actually encompasses the birth, enlightenment, and passing of Buddha. The exact date of Vesak varies according to the various lunar calendars used in different traditions. The full moon of the month of May is marked as the Vesak day in Sri Lanka. The date varies from year to year in the Western Gregorian calendar but falls in April or May. On this day, the streets and the houses are nicely decorated with lanterns hung and colorful lights.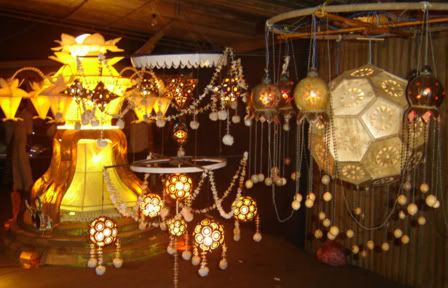 These lights signify the light of the buddha. The lanterns are really nice with different colors. Also there are electrically lit pandols called toranas erected in various locations in Colombo and elsewhere. We planned to go to see the vesak day before yesterday. But coz our friend three wheel driver was busy with some of his work, we couldn't go that day. So again last night we managed to hire him for the night to go for a drive to see the city with the lights. We left home around 9:30 and went to a road where both sides of the roads were full of vesak lanterns of different colors and sizes. Some were made out of paper, some with dried leaves and coconuts. They were really nice. So many people were gathered into the area to see the Vesak Koodu (lanterns).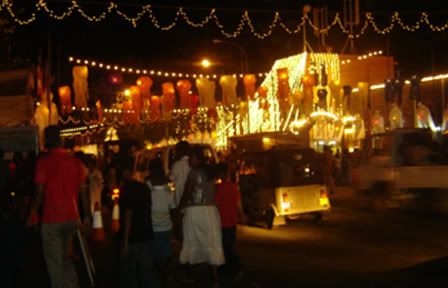 This is a big festival day for the buddhists. Food stalls set up by Buddhist devotees called dansalas provide free food and drinks to passersby. Some serve people with biriyani, ice cream, coffee and etc... Enjoy a good dinner from one stall and you can head to the next stall to get a free ice cream, or a coffee if you'd like stay awake long (just kiddin) or a faluda to refresh yourself. So many people wait in a que for their chance to get the free food. Funny thing is, we get to buy an ice-cream for Rs.10, but people wait in long ques to get a free ice-cream. Yeah! it's always good to make good use of the opportunity. Good thing is, if you want more, you can hit the que to get one again.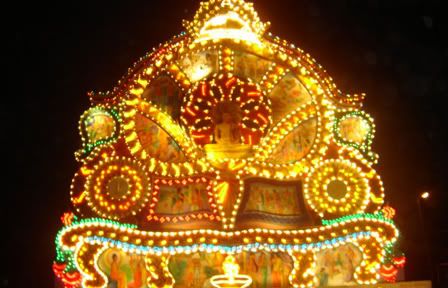 We drove to another spot to see a toran (It's a pandol decorated with lights and drawings showing the life story of buddha). This place was in Dematagoda. It was big and nice, but nothing much to see. So next we headed to Slave Island where there were so many lanterns. The place was very crowded. We looked the place around and headed home at around 12:45 am. I think this day is the first day in history that i came to home this late here in Sri Lanka. Anyway, I had a great night out!